Here's Brad with the October 2020 Market Update!
Meet the @makeithappenrealtors -- A Mini Series
Episode 1 : Why #makeithappen?
Inspired by the real housewives of @bravotv, allow us to re-introduce the team as we look forward to another busy season selling real estate! Keep up with
Us
for weekly clips.
Episode 2: Any advice for 1st time home buyers?

In this weeks' clip we share some basics to help you break into the market. Lindsey's tip may surprise you but we think it's a no brainer! 
Episode 3: What do we love about our job?

In this clip we discuss a few of our favourite things!
Episode 4: What do you recommend to sellers who are trying to get their house ready to sell?

Here is our #1 recommendation and there's no time like the present!
Episode 5: How's the market?

In this clip we give our insight on the market and what you can do to get in on it!
Episode 6: Why choose you?

In our last clip we explain why you need a Realtor and more specifically us!
Ottawa's dynamic real estate team!

Buying or selling a home is a big decision and we can guide you through the process.

House hunters can count on personal service, market knowledge and expert negotiation skills.

Seller's should note that marketing properties FOR SALE is our passion!

We use a modern and professional strategy that works.
 
Fall Fun: Party Recap

What a time we had!
Brad and Andrew's home and garden was the euphoric setting for our recent family fun day; a client appreciation backyard party for the ages.
Kids big and small were drawn to the bouncy castle, with breaks to enjoy brisket, poutine and other food truck delights. Saturday afternoon sunshine and chatter made it especially memorable. 
Thanks to over 100 of our dear friends and clients for attending this @makeithappenrealtors event. 
It was a joy to host you.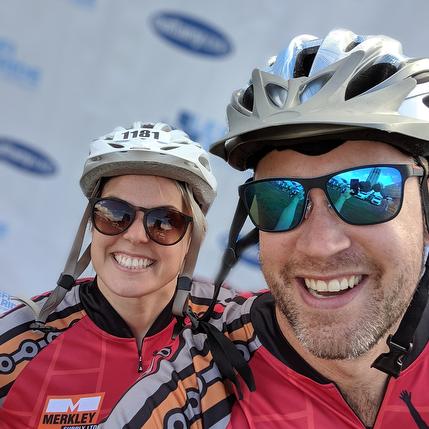 We did The Ride
Together Brad and Lindsey raised nearly $2000 for The Ottawa Hospital.
When crossing the finish line on September 8, we were all smiles for the camera, knowing that we're moving research forward!
The annual cycling event raises funding for world class research taking place right here in Ottawa. 
Your contribution went toward cancer and disease research; realities that affect us all somehow.
Special thanks to our host team: The Brick Peddlers, led by the fine folks at Merkley Supply. It was no surprise that they raised the highest team amount. 
The days' event -- and months of campaigning -- generated $1.07 million for a very worthy cause.
Go team! @dotheride
Wanna keep up with the latest adventures of Brad and Lindsey?

Follow us on Instagram!
@makeithappenrealtors

Brad Gilbert
B.Comm.
Broker