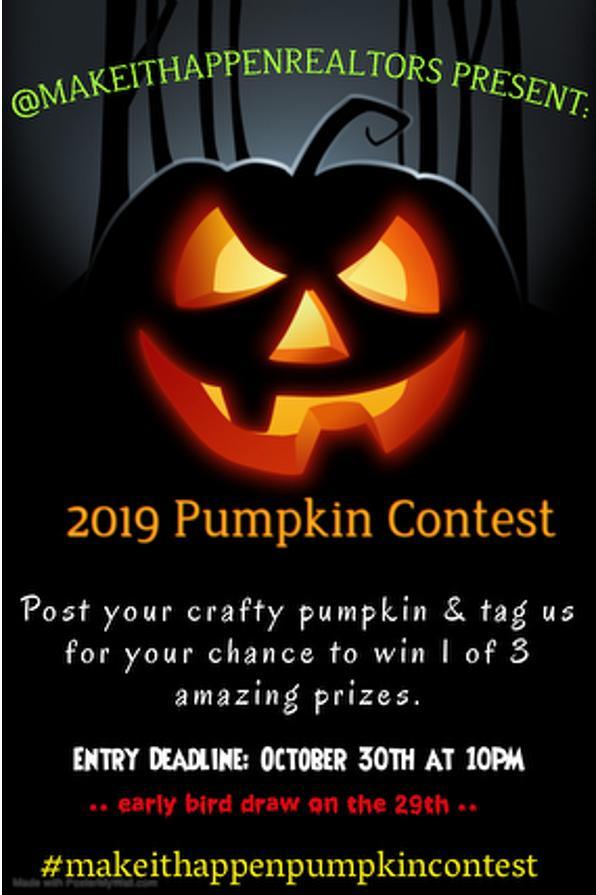 The Legend Lives On
The #makeithappenpumpkincontest is back for another year of fun

Every October we like to gather our clients and followers for a friendly 'competition' of pumpkin carving and decorating. 
You can join the fun by posting a picture of your creation with the following hashtag: #makeithappenpumpkincontest
If you post by Instagram story, tag us @makeithappenrealtors so we can share your entry.
We'll gather all of the submissions up until the night before Halloween and then share some fabulous prizes to thank you for playing along.
The People's Choice vote happens on October 31st and there's always a good drama as the social media polls unfold. Don't miss it!
PRO TIP: hold off on carving that masterpiece until closer to the end date so that your big orange fruit creation doesn't rot ahead of the main event 🎃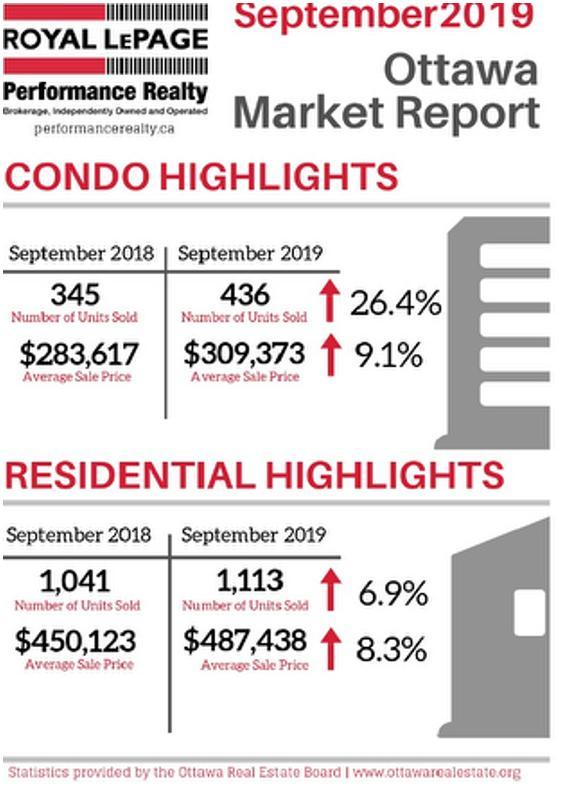 Fall Market Springs Forward
October 3, 2019
 
Members of the Ottawa Real Estate Board sold 1,549 residential properties in September through the Board's Multiple Listing Service® System, compared with 1,386 in September 2018, an increase of 11.8 per cent. September's sales included 1,113 in the residential-property class, up 6.9 per cent from a year ago, and 436 in the condominium-property category, an increase of 26.4 per cent from September 2018. The five-year average for September unit sales is 1,385.
 
"Despite a challenging year of historically low inventory, September's sales continue to be extremely strong, the likes of which we haven't seen in the past 15 years," acknowledges Dwight Delahunt, President of the Ottawa Real Estate Board. "It's quite amazing, with the limited supply, that the market is still moving well with purchasers finding properties that meet their requirements," he adds.
 
"Of course, in this kind of market where the process can be quite accelerated, you must be ready to make a decision quickly and be poised to act straightaway. That's why it's prudent to work with a REALTOR® — home sellers can expose their properties immediately, and buyers are able to have instant access to the latest listings posted to the MLS® System," Delahunt advises.
 
September's average sale price for a condominium-class property was $309,373, an increase of 9 per cent from last year while the average sale price of a residential-class property was $487,438, an increase of 8 per cent from a year ago. Year to date figures show an 8.4 per cent and 8.1 per cent increase in average sale prices for residential and condominiums respectively. *
 
"Now that condominium prices have recovered, we see condo sellers jumping back into the market to take advantage of that, and as a result, condo sales have been very robust and have again led the way in September's unit sales," Delahunt suggests.
 
The $350,000 to $499,999 price range was the most prevalent price point in the residential market, accounting for 43.5 per cent of September's transactions while 28 per cent of residential sales were in the $500,000 to $749,999 range. The most active price point in the condominium was $225,000-$349,999, accounting for 56 per cent of the units sold.
 
"September to November typically tend to be busy listing and sales months; however, there is a federal election coming up, which normally brings a slowdown in the market. We haven't seen that transpire this year, which suggests that consumers are highly confident in our local economy and the Ottawa real estate market."
 
When asked to elaborate on the pressing issue of housing in the upcoming election, Delahunt states, "We are closely monitoring the platforms of all parties, and any proposals that address supply certainly have our support."
 
He continues, "Although Canada needs a broad-based national housing strategy which tackles the full range of housing issues, platforms that are getting it right understand that real estate is local, and policies must factor in regional differences."
 
In addition to residential sales, OREB Members assisted clients with renting 2,117 properties since the beginning of the year.
 
* The Board cautions that the average sale price can be useful in establishing trends over time but should not be used as an indicator that specific properties have increased or decreased in value. The calculation of the average sale price is based on the total dollar volume of all properties sold. Price and conditions will vary from neighbourhood to neighbourhood.


Source: Ottawa Real Estate Board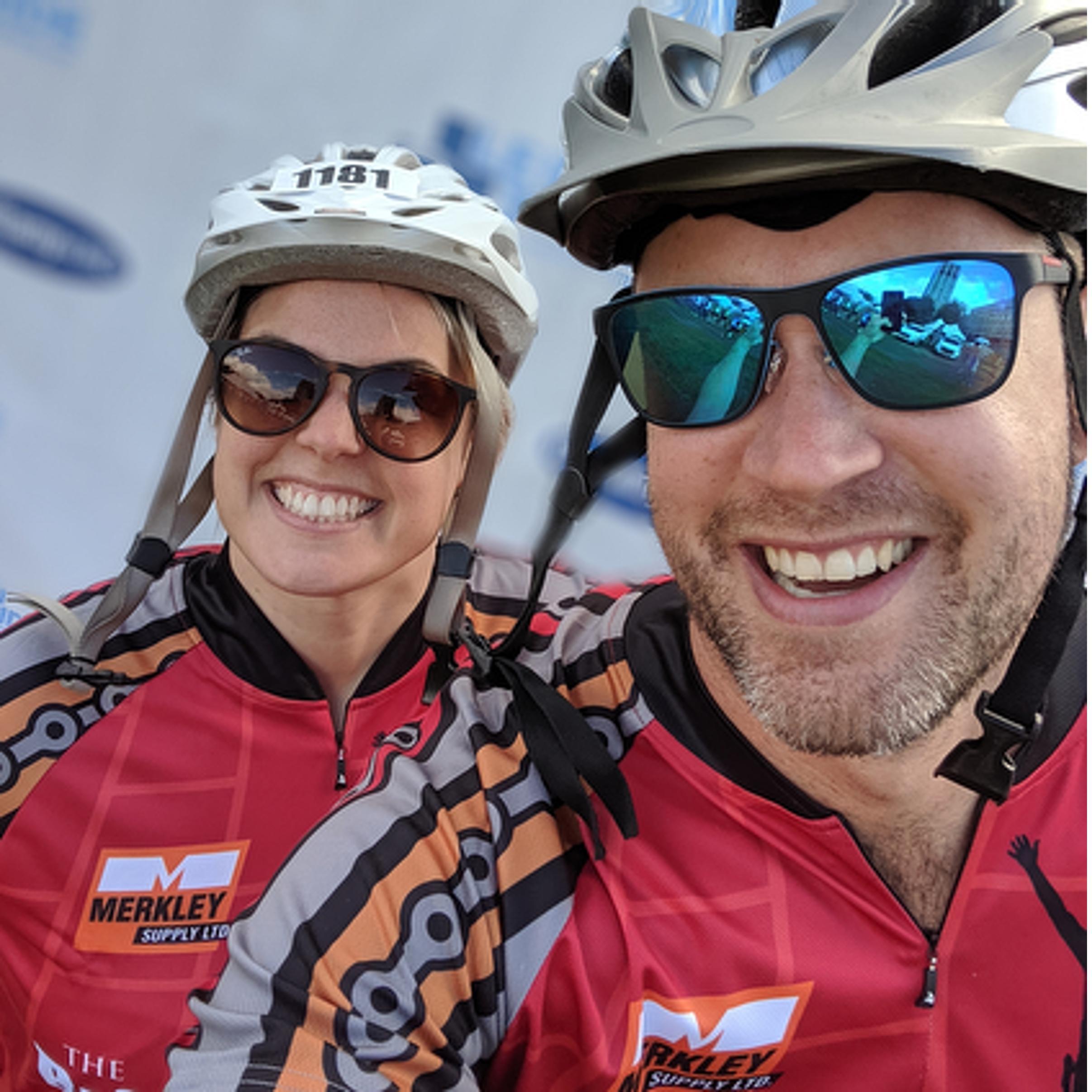 We cycled 'The Ride'
and raised nearly $2000 for the Ottawa Hospital

When we crossed the finish line on September 8, we were smiling for the cameras, knowing that together we've helped to move research forward!

A big thank you to friends who sponsored our fundraising efforts supporting world-leading research taking place right here, in Ottawa.

Special honour went to our team mates, the Brick Peddlers, led by the fine folks at Merkley Supply, for raising the highest team amount, yet again. 

@dotheride
MAKEITHAPPEN E-Newsletter Volume 9
Summer's Not Over
Hopefully this e-newsletter finds you spending summertime at your happy place! After all, aren't these the best days of the year? 
We invite you to grab a frosty beverage of choice and enjoy the latest from our world of real estate; including two chances to visit us at open houses, on Sunday.
Market Update 
2019 seems to have redefined 'house hunting' in Ottawa. It's more challenging than ever! 

Lately, your @makeithappenrealtors have helped several buyers who found success once inventory levels caught up. For some, the search continues. 

Our clients are seeking moderately priced 2-bedroom homes in the downtown area, where 'For Sale' signs under $500k are hard to find. Townhouses are especially popular. Anyone got any leads? Let's talk!

To illustrate this continued demand, here's a snapshot from the Ottawa Real Estate Board, showing healthy price gains and sales growth compared to last year. *Ask us about your neighbourhood stats.
 
Properties For Sale
Please indulge in our current listings; or you can enjoy all the 'feature film' presentations on the Video page of our Website.
1790 Kilborn Av
Open House: August 25, 2-4PM
$599,000 

At the cross section of great schools, parks and greenspace, this four bedroom family home is well maintained and ready for summer fun.
 
492 Sesame Street 
$419,000 ~ Price Improvement! 

Growing families will be very comfortable in this impressive all-brick home, in a small town just south of Ottawa.
 
409-75 Cleary Av

 
Open House: August 25, 2-4PM 
$379,000 ~ Price Improvement! 

Elegant and upscale, this apartment has got New York style. Come see for yourself, where Westboro meets the Ottawa River.
 
Sold on Service
In celebration of some of our summer successes, here's a little slideshow of how we've been making it happen... Thanks to your support and word of mouth.